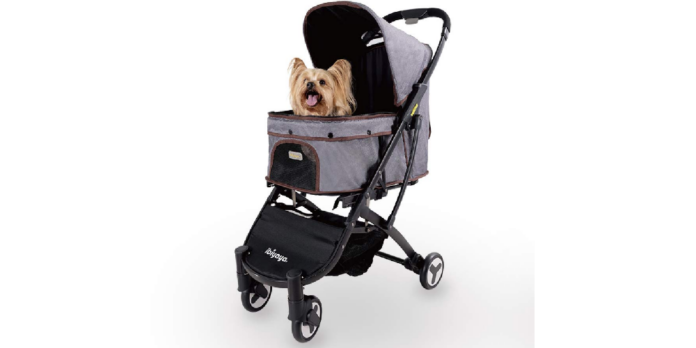 A stroller is not just a vehicle for babies anymore; you'll see dogs being transported around in it as well. It is a must-have accessory for all types of dogs and sizes. However, you need to go through this dog stroller buying guide to learn the various factors that should be considered before making a purchase.
The dog stroller provides your pet with the utmost convenience, allowing them to keep you company while being protected from various external factors. The best ones will also give them comfort during the short walk.
Reasons to Buy a Dog Stroller
Safe Visits to Vets
When taking your dog for frequent vet visits, dog strollers make the experience easier and safer. The best strollers for dogs will provide the design measures to ensure your dog stays healthy and free of germs. It also provides comfort to your furry family member during their sick days.
Workplace Friendly
Although most people love animals, there are still a few formal places where it's not okay to have a dog running around and creating a disturbance. But if your dog or any other pet is confined in the space of the dog stroller, the staff may allow them to enter the workplace.
A Must-Have for Injured Dogs
If unfortunately, your dog has been in an accident and injured, it becomes necessary for you to buy a dog stroller. This is because dogs need to go outside on a regular basis. As the animal will need some time to recover, taking them in a dog stroller will be the only safe option left. It will speed up the recovery process and also give your pet self-confidence.
Now that you know some of the primary reasons a dog stroller is essential, let's look at the few things to be watchful for when making a purchase.
Dog Stroller Buying Guide
There are a lot of factors to consider but let's look at only a few important ones.
Weight and Size
The first and foremost thing to look at is the weight capacity of the hand-pushed vehicle. Then, compare it to the weight of your dog. You also need to check if the stroller is big enough to carry your pet around comfortably. However, it should be too big that it becomes difficult for you to move it around.
Tires/Wheels
The differentiating element between good strollers and bad ones is the type of wheels attached. While the plastic tires make the stroller affordable, your dog will experience bumpy rides. Air-filled tires are a good option for rough and bumpy roads, but they require extra maintenance. However, if you're looking for a durable option, go for the EVA tires.
Zipper-less
If your dog doesn't jump out unless given the signal, consider buying a stroller without a zipper. This eliminates the need for your assistance, and your pet can get in and out of the vehicle without any trouble.
Locking Front Wheels
The lock on the front wheels is the most helpful feature, especially if your daily route includes passing through rough terrain. When the wheels are locked, you can easily go up and down without risking your safety.